Can a Pharmacy Technician Dispense Medications?
Last Updated/Verified: Sep 9, 2023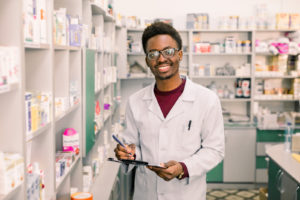 Yes. Pharmacy technicians are trained to prepare, package, mix, and distribute medications, among other duties. Dispensing a drug, according to the North Carolina Public Health department, means to prepare and package a prescribed medication in a container and label the container with information that is required by state or federal law. Dispensing also includes the process of filling or refilling drug containers with prescribed medications for use by patients.
How Pharm Techs Dispense Medications
The process of dispensing medications to a patient is a detailed one that involves checks and double-checks by the pharmacist and the pharmacy technician. The first step is to enter the prescription information into the computer system (tech) including the patient name, prescribing doctor's information, medication, dose, and instructions to the patient as well as the number of medications. Most pharmacy management systems will automatically check the new medication order against any previous orders to identify contraindications or adverse drug-to-drug interactions. This information is then verified by a pharmacist, including the appropriateness of the medication for the patient.
RELATED: Pharmacy Technician vs Pharmacist
The technician or the pharmacy management system creates a label for the order and secures it to the container. The pharmacy technician then fills the container with the prescribed quantity of the medication and the pharmacist verifies the medication in the container. Medication information sheets are also printed for each dispensed medication.
What About Medication Counseling?
When the patient presents to purchase the medication, a pharmacy technician may conduct the sale of the medication, although that is not required in most states. If the medication is new to the patient, or even if it's a refill, the pharmacist will provide counseling to patients regarding the specific medication. Pharmacy technicians are not trained nor certified to provide medication counseling or information that is not pre-printed by the pharmacy management system.